Great kit, qualified instructors and top quality beach sailing
Our sailing centre in Mauritius offers you a wide range of catamarans, monohull dinghies and windsups and wingfoil boards, and, of course, the personal attention and dedication that you'd expect from a Wildwind holiday. As the only RYA and VDWS recognised centre on the island, we guarantee excellent standards of safety and instruction levels. Unlike many other sailing centres, there is no extra charge for joining in any of our RYA-certified training courses. Click here to see our RYA certificate and find out more about the courses we offer.
Two distinct sailing areas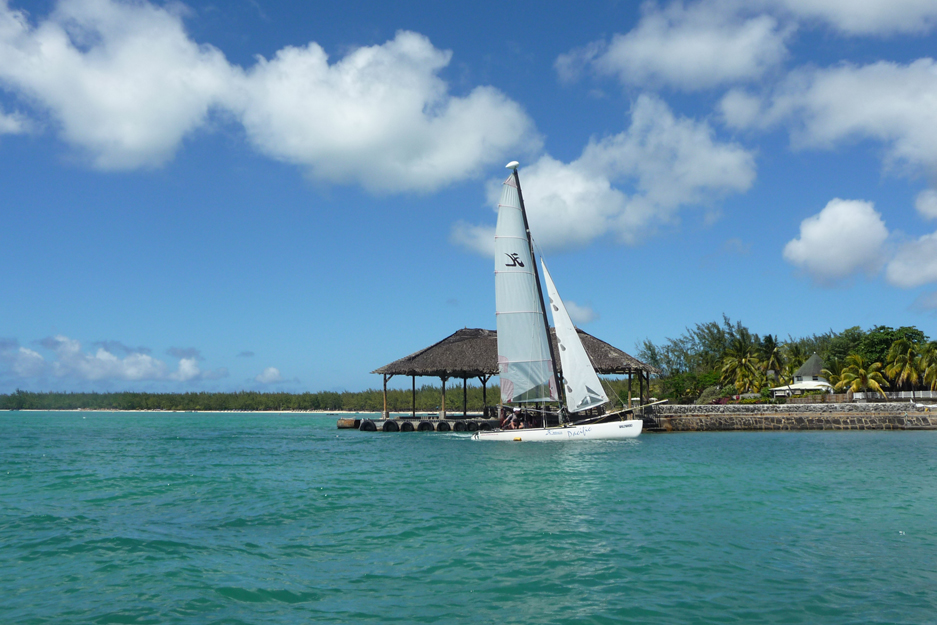 There are two distinct sailing areas. We are based on the only part of the Mauritian coast to have a large deep enough sailing area inside the lagoon bounded by the coral reef. Here then, right in front of the hotel, is a beautiful and safe place to learn and improve your existing (if any) sailing skills.
Venture just outside the reef and you'll find stronger winds - the best on the island - as well as rolling waves that allow you to blast away in controlled sessions at sea. The more adventurous can join our day long sail-aways in which we explore some of the smaller outlying islands or other locations stopping for lunch along the way.
An excellent fleet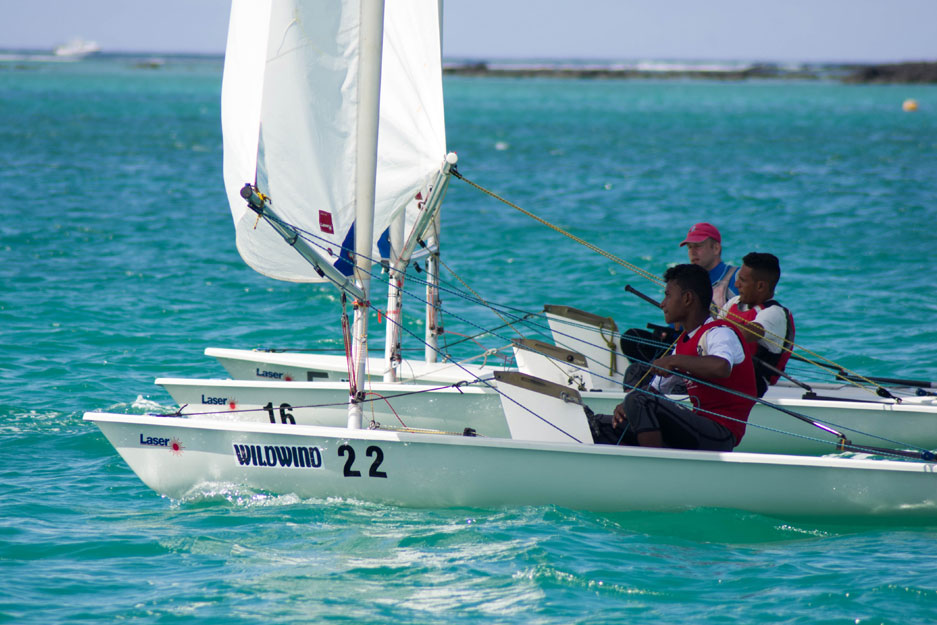 Our fleet of Hobie Pacifics and Hobie 16s are all kitted out with spinnakers to take advantage of the consistent Mauritian trade winds and rolling waves to surf downwind. The Hobie 14 is fun enough without: these were the conditions it was made for and the Hobie 15 is an ideal learning platform.
The dinghy fleet includes Laser Picos, Laser Bugs and an RS Quba all brilliant choices for kids and for those learning to sail. Our Olympic class Laser 1s come with a full range of sail sizes and are available for improvers and experts alike.
Similarly, we offer Laser 2000s, which are ideal as teaching boats and for those with some experience to go out on their own. Our performance RS 500 single trapeze skiffs are perfect for our more capable clients and superb for our highly qualified instructors to teach more advanced skills, such as a symmetric spinnaker handling.
Our windSUP fleet is comprised of Starboard and Exocet boards, designed for both Stand Up Paddleboard (SUP) adventures and for learning how to windsurf. You can use these boards to progress to planing when conditions are right.
With a maximum of 20 guests on site at any one time and 9 single handed and 11 double handed boats there are always craft available.
Dinghies: 3 Laser Bugs, 1 RS Quba, 3 X Laser Pico, 5 x Laser 1 (all rig sizes), 2 x Laser 2000, 1 x RS 500. Catamarans: 3 x hobie 15, 4 x Hobie 16 LE Race, 2 X Hobie Pacific. 7 Windsup boards for stand up paddle boarding and windsurfing and 3 beginner windsurf boards. 2 Wing foiling boards.
Friendly and professional instructors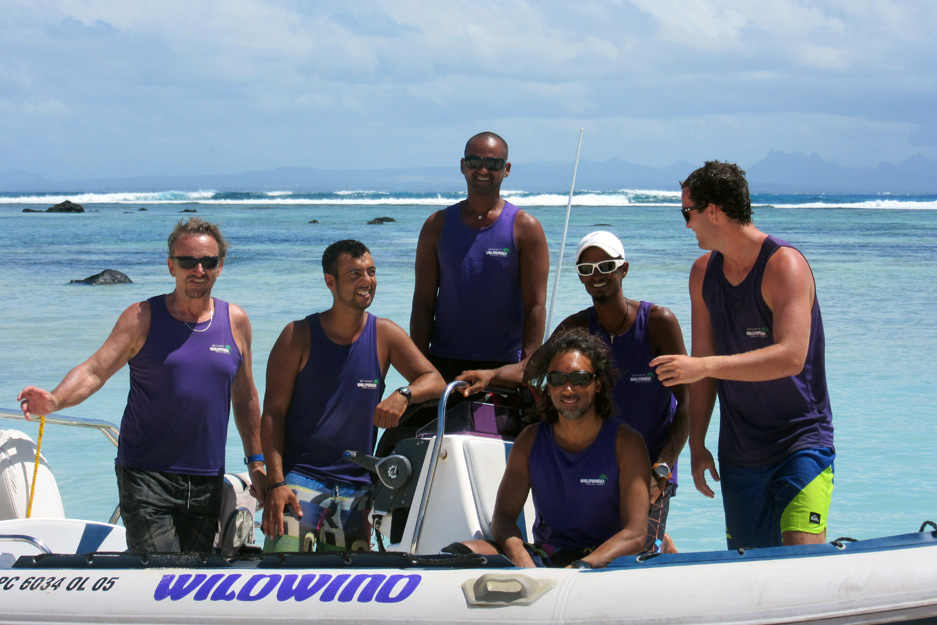 Wildwind has more than 35 years' experience organising sailing holidays for guests at our flagship base in Greece and 10 years in Mauritius, with our instructors at both centres receiving praise and plaudits every week of the season.
In Mauritius we have combined our expertise with the unique knowledge of the local sailors (most of whom have also trained at our Greek centre) to create the best possible experience for you - on and off the water. Instruction is tailored to your needs. Our instructor to client ratio is 1 to 4 -- some of our instructors are also experienced racers. As well as group sessions we are able to offer each guest at least one hour's dedicated and personal instruction every day - this approach guarantees you a fast track to improving your skills.
Free RYA certification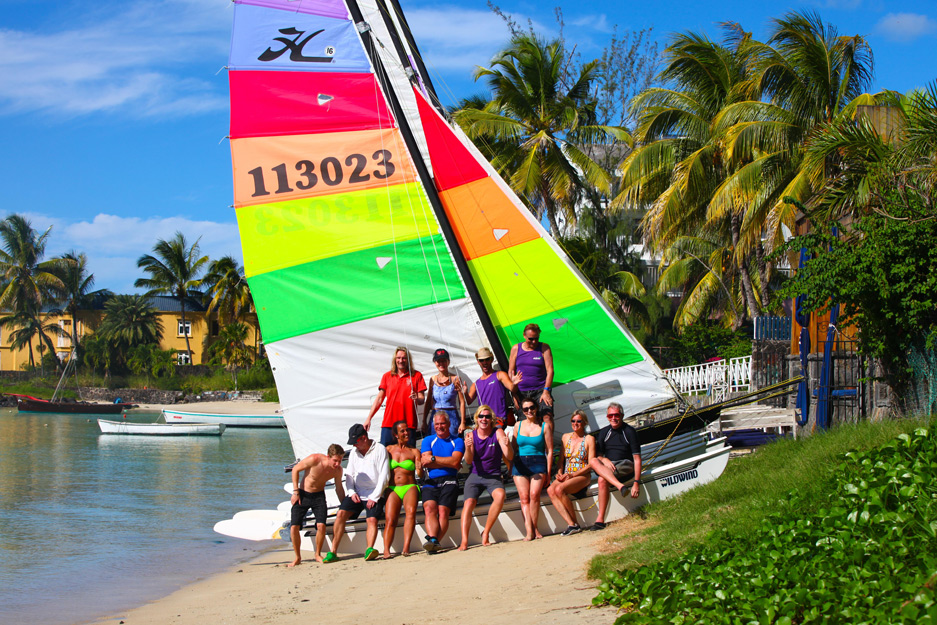 If you want to come home from your holiday with more than a sun tan, you can request a course that leads to certification either by the British sailing organisation RYA (Royal Yachting Association) or the German VDWS organisation.
Not only do we offer the full RYA curriculum, we do so free of charge! From the basic skills course to advanced dinghy sailing with spinnakers, performance sailing or navigation and seamanship, we've got you covered. Simply talk to us about your wishes, preferably in advance or otherwise on the island when you meet the team.
You can find the complete RYA training catalogues on the website of the RYA.
Sail-aways
For the more experienced we have two different sail-aways each week: one to Grand Bai with lunch at the Beach Cub and the other to Baie du Tombeau with a picnic on the beach. These expeditions are often reported as the highlight of our clients' holidays with us - they really harness the spirit of Hobie cat long distance sailing in incredibly beautiful waters and although there are safety boats accompanying the fleet there is a real sense of adventure.
'The return trip is generally a reverse of the upwind sail, providing a downwind sleigh ride on rolling waves to surf all the way back to the reef entrance at the Wildwind centre' Yachts & Yachting